Snow White was stopped at the
Gates of Disneyland
Lemesos International Documentary Festival
in collaboration with The Island Club
6 Aug 2018
Limassol, CY
Perceived in conversation with each other and as separate narratives, each film gives insight into how individuals' image and identity are manipulated, controlled and reproduced. In a post-truth world we respond with fear to the unexpected and with apathy towards violence.
8 min, digital video colour & b/w, stereo

In this short film by Johan Grimonprez, British neurologist Raymond Tallis argues that consciousness is not an internal construct, but rather relational. Through the intriguing notion that humans are physically unable to tickle themselves, Tallis explores the philosophical notion that we become ourselves only through dialogue with others. Shouldn't Descartes' first tenet "I think, therefore I am" rather be: we dialogue, therefore we are? A view underscored by the observation that many sensations can only be triggered by others. Images of a heated television-debate on the war in Syria, during which two speakers angrily thrust a table at each other, illustrate that aggression, like tickling, requires two parties.

Johan Grimonprez's critically acclaimed work dances on the borders of practice and theory, art and cinema, documentary and fiction, demanding a double take on the part of the viewer. Grimonprez's curatorial projects have been exhibited at museums worldwide, including the Hammer Museum (Los Angeles), the Pinakothek der Moderne (Munich) and MoMA (New York). His works are in the collections of Centre Georges Pompidou (Paris), the 21st Century Museum of Contemporary Art (Ishikawa, Japan) and Tate Modern (London).
12 min, video HD
colour, stereo

Fidel explains that he was a scammer in Nigeria in the past, before arriving in Lebanon. In a short video, he accepts to speak about the different steps the scammers go through to hook their victim. From the way of speaking to the accessories (a Rolex watch or Armani shoes for example) and the chosen locations, everything is staged, almost like a film in the making. "Scams are another kind of movie that you cannot really explain. It's a never-ending story. In these scams, you have to convince someone you've not seen, someone you don't know, someone that you might not even see, but will pay you a lot of money. It's a magical movie," Fidel tells us.

The filmmakers and artists Joana Hadjithomas and Khalil Joreige interweave thematic, conceptual and formal links through photographs, video installations, fictional films and documentaries. Their work is constructed around the production of types of knowledge, the rewriting of history, construction of imaginaries, and also around contemporary modes of narration. Their work has been collected and exhibited in private and public institutions and museums worldwide. In 2017 they were awarded the Marcel Duchamp Prize, after exhibiting the project Unconformities at the Georges Pompidou Centre (Paris).
10 min, video HD, colour, stereo

The absurd logic of the 'real character' and the extreme discipline of Disneyland become apparent when a real fan of Disney's Snow White* is banned from entering the park in a Snow White costume. As visitors are encouraged to dress up and a lot of costume-like merchandise is sold at the park, the full costumes are only sold for children. The Disney slogan 'Dreams Come True' of course means dreams produced exclusively by Disney. Anything even slightly out of control immediately evokes fear of these real, possibly dark and perverse dreams coming true. The fantasy of the innocent Snow White doing something bad is so obviously real, that the security guards and management refer to it when explaining why the visitor can't enter the park dressed up as Snow White.

Pilvi Takala uses performative interventions as a means to process social structures and question the normative rules and truths of our behaviour in different cultural contexts. She graduated from the Finnish Academy of Fine Arts in 2006 and from the residency program of Rijksakademie van beeldende kunsten (Amsterdam) in 2009. Her solo exhibitions include Bonniers Konsthall (Stockholm), Kunsthalle Erfurt and Kiasma Museum of Contemporary Art (Helsinki) and Sorlandets Kunstmuseum (Kristiansand). Her work has been shown in MoMA PS1 and New Museum (New York), Palais de Tokyo (Paris), Kunsthalle Basel (Basel), Witte de With (Rotterdam) and the 9th Istanbul Biennial.
*Disney's Snow White and the Seven Dwarfs from 1937 is the first full-length cel-animated film in history; based on a fairy tale by the Brothers Grimm.

28 minutes, Desktop video colour, stereo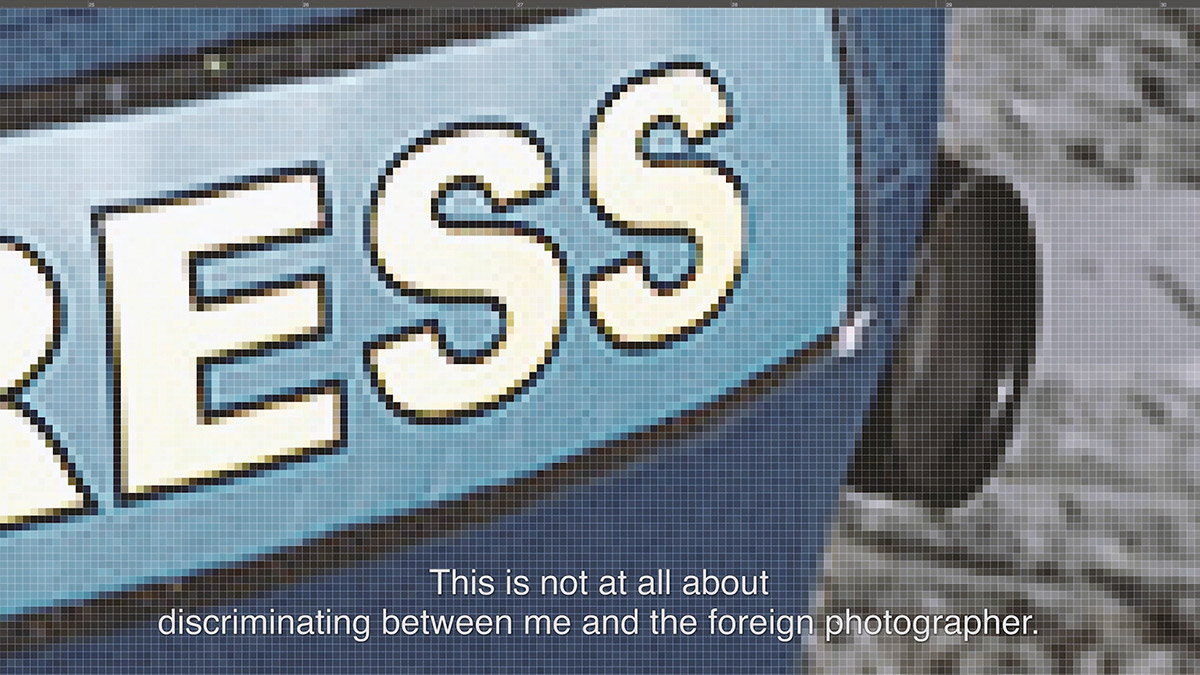 When Things Occur is based on Skype conversations with Gaza inhabitants who were behind the images that were transmitted from screen to screen in the summer of 2014. The film probes the face of mourning and grief—its digital embodiment, transmission, and representation. It asks how the gaze gets channeled within the digital realm, and how empathy travels. What exactly is viewing suffering 'at a distance'? What is the behavior and political economy of the image of war? And who is the 'local' in the representation of war?

Oraib Toukan is an artist and Clarendon Scholar at the Ruskin School of Art, University of Oxford. Until Fall 2015, she was head of the Arts Division and Media Studies program at Bard College at Al Quds University, Palestine. Recent exhibitions include the Akademie der Künste (Berlin), Heidelberger Kunstverein (Heidelberg), Qalandia International (Palestine), The Centre for Contemporary Art Glasgow, the Asia Pacific Triennial, the Mori Art Museum (Tokyo), and the 11th Istanbul Biennale. She is author of Sundry Modernism, Materials for a Study of Palestinian Modernism, Sternberg Press (2017).